Crystals for Health, Home, & Personal Power
Ken and Joules Taylor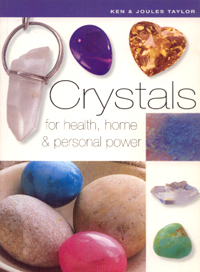 Crystals, How to use them, how to wear them
128 pages hardback
Boxed kit / gift set with 7 crystals
Colour photographs
1999
Collins & Brown

Also available as
Crystals for health home & personal power
Paperback
1999, from the same publisher


This practical, pragmatic guide is richly illustrated with some 150 full-colour pictures, and provides comprehensive advice on using crystals and minerals to enhance every area of your life.

The Boxed Set not only has a hardback edition of the book but also includes a collection of seven actual crystals and other minerals that are associated with the seven ancient astrological Planets. This neatly packaged set, produced to high specifications for Book Club Associates, also contains a velvet pouch in which to keep the specimens, and makes an ideal gift. Please note that the subtitle of this edition is How to use them, how to wear them.

Using the fundamentals of Feng Shui and Chakra Therapy, as well as astrological and other traditional principles, Crystals presents a host of practical ideas for maximising personal and environmental potential - without making spurious claims about the innate "powers" of these beautiful and fascinating objects!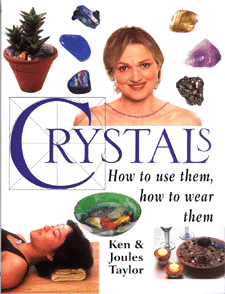 Dedication
For the Earth that provides the minerals from which our bodies are made

For those nameless supernovae from which the Earth was made

And for you - the reader - who, no less than the planet and the stars,

Provides the potential from which the future is made
Please see also Apologia and Ethics for additional information.

---
Text & design &copy Ken & Joules Taylor 1999-2013

Illustrations courtesy of Collins and Brown