Dartmouth Ghosts & Mysteries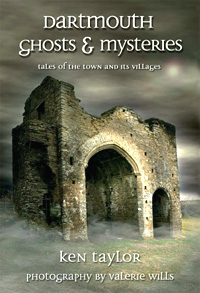 Published by Richard Webb
Publication date October 2006
Hardback 249x169mm
Illustrated (b&w)
128 pages
True ghost stories from Dartmouth and its surrounding parishes, Devonshire
Dartmouth has retained many of its ancient buildings and heritage, and still enjoys much of the atmosphere of a small Devonshire community, which may explain why it appears to be one of Britain's most haunted towns.

Scores of hauntings and other paranormal phenomena are featured in this book, which includes stories from the market town's hinterland - approximately bounded by Kingswear, Cornworthy, Halwell, East Allington and Torcross, and incorporates the parishes of Blackawton, Dittisham, Stoke Flemming, and Strete.

Ghost stories are usually passed-on by word of mouth, and are rarely remembered in detail, allowing many tales to grow in the telling! By talking to eye-witnesses and recording their experiences, I aim to help preserve this important part of Dartmouth's multi-layered history and folklore, publishing as many experiences, contemporary and traditional, as possible.

Although many unusual experiences can be explained in perfectly natural ways, other incidents strongly suggest the existence of mysteries that science has yet to fathom.

Some hauntings have taken place in homes whose privacy deserves to be protected, but many have occurred in buildings with public access, and there are even tales of some particularly strange phenomena in open countryside.

Dartmouth hauntings include...
Agincourt House
The Butterwalk
The Cherub
Longcross Cemetery
Mount Boone
The Royal Castle Hotel
The Spinning Wheel Tea Rooms
St Clement's Church
St Saviours Church
Phenomena include...
Ghosts
Poltergeists
UFOs
Ley Lines
Witches
Sea Serpents
Spirit of the Dart
Spring Heeled Jack
King Arthur

---
Text &copy Ken Taylor 2004 - 2018

Book illustrations courtesy of Richard Webb