Dream Diary
Joules Taylor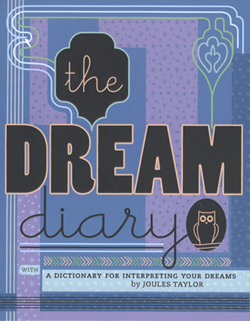 160 pages spiral bound paperback
194 x 152 x 16mm
March 2009
Potter Style

Language



American English



This spiral bound bedside diary has lined pages for the dreamer to record their dreams. Pages are divided into sections for the Dream Description, Key Symbols, Analysis, Date and Place of Dream, and a blank area to draw sketches.

The Introduction offers information on what dreams are, how to record them, and how to interpret them. There are also forty-eight pages of dream interpretations at the back of the diary which, like the Introduction, are extracts from the author's book Dream Decoder.

No book of this size could profess to be comprehensive in its list of dream interpretations, but the sample is sufficient for even a beginner to start learning how to decipher their own dream symbolism — which can be a more valuable learning experience than simply following a standard A-Z of dreams.



---
Text & design &copy Ken & Joules Taylor 2009-2013