Ghosts of Arnos Manor Hotel, Bristol
Ken Taylor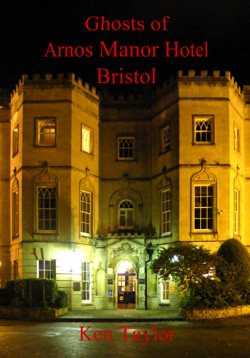 52 pages paperback
21 photographs and drawings
210 x 148 x 4mm
December 2009
Archyve



Few places in Bristol have seen so many paranormal investigations as Arnos Manor Hotel - or claim so many ghosts. Hauntings include a nun said to have been walled up alive, a poltergeist, an old man composing his memoirs, and children forever young and playful.

The idea for this book arose when, within a few weeks of the publication of Brislington Ghosts & Mysteries, the Bristol Society for Paranormal Research and Investigation (BSPRI) mounted an investigation of the site - and invited me to attend. The old adage that as soon as a book is printed, it's already out of date struck home, as I longed for an opportunity to publish their findings.

Since then, several other groups such as the UK5 Paranormal (televised as Paranormal 5), and Ghost Challengers, have held investigations of their own, and solo investigators such as psychic artist Stephen Cox, have made their own contributions to the ever-growing catalogue of paranormal phenomena at this remarkable hotel. Their findings are detailed, and three of Stephen's psychic portraits are illustrated in this book.

But perhaps the most striking tales are those told by the staff who work at the hotel, and some of these date back to the Swinging Sixties, when the building was a private club. Previously, the site was a convent, and it is the spirit of a nun, affectionately dubbed Sister Teresa, that is the most persistently reported ghost.


---
Contents include...
To buy this book...
This book can be purchased directly from Archyve, the publishing wing of WaveWrights.



---
Text & design &copy Ken Taylor 2009-2013
Book illustrations courtesy of Archyve