Tarot for Today
Ken Taylor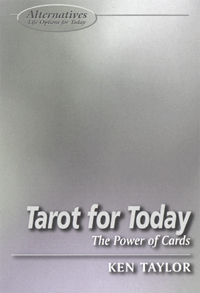 160 pages paperback
198 x 129
2000 London House


This comprehensive guide to gaining competence in Tarot use
covers both traditional and contemporary aspects of the cards.

Tarot for Today presents the information necessary to understand what the Tarot is, and how it is used.

This book is primarily intended to help anyone to pick up and use their own Tarot pack in a wide range of everyday situations.

The main emphasis is devoted to using the Tarot for divination. However, due weight is also given to the initiated use of the Tarot as a focus for meditation and self-discovery. Its use in magic and ritual as a tool for self-improvement is likewise described, and techniques for DIY experimentation are also provided.

No book on the Tarot is complete without a note on its origins, which provides an valuable sense of perspective. Whilst scrupulously accurate in points of history and tradition, the facts presented here are replete with anecdote so as to bring the history to life.

The text is specifically designed to both enable you to make informed choices about the present-day profusion of Tarot packs etc., and also to ensure that you are fully equipped to comprehend new developments and meet the opportunities raised by future trends.

Whilst it does not claim to make any reader an expert overnight, Tarot for Today does allow you to enter into conversation and debate with a groundwork of secure knowledge and an awareness of the major issues concerning the cards. More importantly, for most readers anyway, it also reveals exactly how to use the cards for divination - both for personal benefit and on behalf of friends and colleagues.

Chapters include...
Introduction - Answers the question "what are Tarot cards?", explains why people use them, and notes the strengths that the Tarot possesses in comparison with other forms of divination.

Evolving Traditions - The known facts about the origin of the cards, as well as their legendary origins, are discussed in sufficient detail to help you understand the great diversity of packs - and ideas - which are currently popular.

Divination Techniques - A variety of card layouts are presented and illustrated, each having guidelines which recommend them for specific circumstances (e.g. one may reveal the year ahead, while another reveals the background to a present situation).

Divinatory interpretations - of each of the 72 cards are individually given.

Tarot Mysteries - How to use the Tarot for meditation and self-discovery.

Tarot Magic - How to use the Tarot for magic and self-improvement.

Glossary - Explaining all the technical jargon that can otherwise really confuse the beginner!
---
This book is available to buy at Verbank Library

Information about Verbank Library here.
---
Text & design &copy 1999 - 2013 Ken & Joules Taylor

Book illustrations courtesy of London House