Butch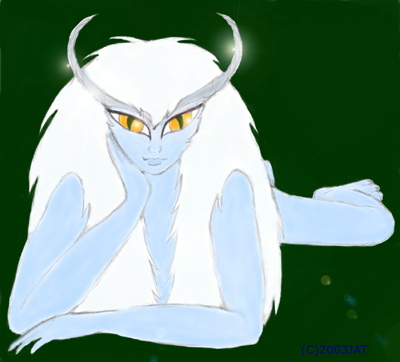 Remember back in May I mentioned Butch, the cute bishie gremlin who infests my computer? Well, about thirty seconds after I'd posted that he upped and demanded I draw him. Heh. Would you deny someone/thing that could reformat your hard drive while you were sleeping? I think not....

His name isn't really Butch, of course - I can't pronounce his true name - but he likes Butch because it's so inaccurate. And you can't see his tail or piercings in this pic, which probably means I'll have to draw him again sometime soon. And he has a tendency to change his skin, mane and eye colour at whim (he says it's boring staying the same all the time) but this is the combination he prefers. He's very possessive (it's taken me a year to get him to allow Ken to use my new computer without crashing/corrupting files - which isn't bad, since it took me two years with my last computer - yes, he moves from my old to my new computer every time I upgrade) and surprisingly protective, bless him. I turn a blind eye - mostly - to the things he gets up to while I'm not here. This pic of him was influenced by Silverthorne's lovely artwork. Oh, and Lutra - he's as tall as he chooses to be at any given moment...

He adores lemons (like you couldn't tell just from the form he's taken?), leather, fur, chunky males with tails, lizards... Hn. Have I influenced him, or should I blame him for my own obsessions?!

Heh - whatever. I'm very fond of him really...




&copy 2003 Joules Taylor
&copy 2002-2004 WaveWrights