Brislington Ghosts and Mysteries
Ken Taylor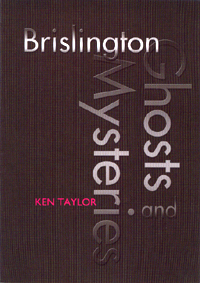 72 pages paperback
B&W photographs
220 x 168mm
October 2005
Redcliffe Press
Traditional tales and modern mysteries
Whether you believe in ghosts, dismiss them, or are an open-minded sceptic, this book presents the facts as reported by people who experienced something so far beyond the ordinary - it warrants the term paranormal.

Dozens of stories are told of haunted places in Brislington (which traditionally includes the neighbourhoods of St Anne's and Arno's Vale, Bristol, UK), and there are also details of several UFO sightings and a range of other local incidents of paranormal phenomena.

Some people are surprised to find so many hauntings in a thriving modern city, but following publication many people have come forward with even more stories. Brislington was a village until a century ago, and still retains some of the atmosphere of a small Somerset community, which may explain why its ancient ghosts still seem to feel at home here.

Although some hauntings have taken place in homes whose privacy needs to be protected, many have occurred in public places, including some in the open air, so Brislington Ghosts & Mysteries can serve as a guidebook to this historic and perhaps highly haunted place.
Hauntings include...
Arnos Manor Hotel
Arnos Vale Cemetery
The Black Castle
St Luke's Church
St Anne's Well
Langton Court Hotel
Brislington Hall
The Elms
The Beeches
Other topics include...
UFOs
White Witches
Ley Lines
Holy/Healing Well
Prophetic Dreams
Roman Mystery Cult
Superstitions
Synchronicity
I have compiled this sort of information before (for Dartmouth, Devon) and, twenty years on, remain wryly amused to note how much we know about the natural history of the neighbourhood - all the local species of butterflies, birds, trees, mosses etc - yet how little about our community's supernatural history.

---
This book is available to buy at Verbank Library

Information about Verbank Library here.
---
Text &copy Ken Taylor 2004 - 2013

Book illustrations courtesy of Redcliffe Press