Perfume Power
Joules Taylor
The Values of Scent and Aroma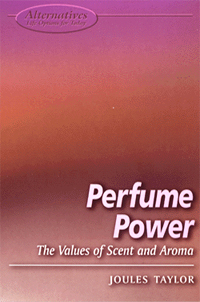 144 pages
198 x 129mm paperback
June 2000 London House


This book explores all aspects of fragrance. Read it, use it, then go out and enjoy the rich, aromatic world in which we live!

Perfume Power is a comprehensive introduction to the fascinating and mysterious world of scents and fragrances, and explores how we can all use aroma to enhance every area of our lives.

Topics covered in detail include the ways in which perfumes are used to promote and sustain good health (both physical and emotional), and their role in beauty treatments. The effects of aromas in the home and at work are also explored, as are the inherent abilities of fragrances as mood enhancers.

Although the venerable, millennia-old history of the use of fragrances for a host of different purposes is noted, the main emphasis is firmly on examining the wide range of modern opportunities. Therefore, although due attention is given to commercially available applications, Perfume Power prompts you to participate in the growing trend of preparing simple, effective, inexpensive and safe perfumes and remedies at home.

By promoting awareness of just how important scents and fragrances are in everyday life, Perfume Power encourages everyone to enjoy experimenting with different applications and perfumes.

Chapters include...
The Power of Perfume... - The overall importance of fragrance in our lives is demonstrated by observing the subtle, persuasive power of the sense of smell.

Sense of Smell (a.k.a. 'the science bit'...) - How the sense of smell affects our brain and body. The emotional impact of scent - a powerful tool for evoking memories, feelings and moods - pheromones and the sexual response. Practical suggestions on how to increase the sensitivity of your own sense of smell.

Perfumes for the Body and the Soul - Perfumes in ancient life, religion, and rituals of death (for example floral tributes in ancient burial sites - a custom still prevalent today).

Aromatherapy - What it is and how it works. Essential oils, safe usage and how to make up a basic solution. Basic personal aromatherapy methods. Aromatherapy in the home (fragrancers, scented candles, perfume rings, incense grains and charcoal burners, misting). Simple first aid and a basic aromatherapy kit.

Herbalism - Including herbal teas, Bach Flower Remedies, Flower Essences, "pollution busters", the effects of positive and negative ions, home-made beauty treatments.

Gardens - Scented herbs and flowers in house and garden. Topics include the herb garden, healing gardens, mood gardens, gardens for the blind, the fragrant garden, indoor herbs, fragrant houseplants.

Feng Shui - a Fragrant Balance - Bringing the Oriental art of elemental balance into your life.

Fragrant Foods - From crystalised violets to honeysuckle wine...

Perfume - The basic types of perfume and how commercially available perfumes are made. Choosing a perfume to enhance the image you are trying to create. Different skin types and why the same perfume can smell completely different on different people.

Crafty Perfumes! - Making your own perfume, herb pillows and sachets.

Haunting Fragrances - Ghostly scents from a variety of traditional tales.

Table of Oils - Lists of some of the best known and easily available aromatherapy fragrances and what they do - for example lemon to enliven, lavender for restful sleep, rose for romance, eucalyptus for colds and sinus problems - plus advice on how to use them most effectively.

A Cautionary Note - Concise reiteration of helpful safety tips.
---
Text &copy Joules & Ken Taylor 2002-2013

Book illustrations courtesy of London House