J Thompson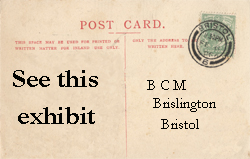 Only a single example of this photographer's work is so far known from Brislington - "WATER LANE BRISLINGTON." The credit printed on the back of the postcard is "Photo by J. Thompson, Crane's Buildings, Wellington Place Belfast." The earliest known posting date is 24 June 1910.

James Thompson was born in Liverpool in or around 1869 and at the time of the 1901 Census of Ireland was living at Stranmillis Gardens in the Shankhill parish of Belfast with his wife Minni (elsewhere known as Mary) and six children (only one was a daughter). Minni (aged 31) was born in Belfast, as were all their children. James was working as a photographer.

A decade later the census shows the family, still living in the same parish, now included three further children, one being a daughter. The eldest son living in the family home at the time of the census was James (17 years old) who, like his father, worked as a photographer.

Directories of Belfast from 1906 to 1912 show James Thompson (Snr) had a photographic studio at 26 Crane's Buildings, Wellington Place (the 1910 Belfast Street Directory lists him as a photographic artist residing at 4 Stranmillis Gardens). In 1913 the studio moved to 1 Grosvenor House (still in Wellington Place), and then from 1918 until 1933 it was at Prudential Chambers (Wellington Place) - its name unchanged throughout (McFaull, Liam undated).

Mary died in 1918, a victim of the 'Spanish flu' influenza pandemic, and James (Snr) lived on until 1941 and was buried in a family plot in Dundonald Cemetery, Belfast.

His postcards include:
Water Lane - Several other versions of WATER LANE BRISLINGTON. have appeared as postcards. Two are anonymous, but one - "Water Lane, Brislington." - was published by "J. B. Comer. Brislington."
Bibliography
Ken Taylor